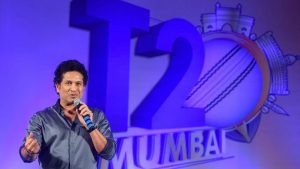 The inaugural edition of the Mumbai T20 league is a step closer after they completed their player draft recently. We are now just days away from this tournament beginning, and based on the players that have been taken in the draft, this is certainly a league you need to be watching. There are many stars on show, as well as many young names to keep an eye on for the future, and those two ingredients will ensure we have some exciting cricket taking place during March. T20 Mumbai League 2018 tickets are available on BookmyShow.
The Mumbai T20 league will begin on March 11, running for 11 days with the final games scheduled for March 21. The games will be all played at one venue, and the one chosen to host is the Wankhede Stadium, which will provide a great home for the tournament this year. Sachin Tendulkar is the brand ambassador for this tournament, and you know when he is involved that this is something serious and something you need to keep your eye on.
The six teams that are taking part in the very first Mumbai T20 league are as follows:
Mumbai North, Mumbai North Central, Mumbai North East, Mumbai North West, Mumbai South and Mumbai South Central These six teams are going to battle it out, and now we have seen the players they have drafted for the upcoming event, fans will be able to decide which franchise they want to cheer on.
During the auction, Ajinkya Rahane and Suryakumar Yadav were the two players who went for the most money. Rahane signed for the North, while Yadav will play for the North East. Rohit Sharma went to the North West franchise for a big price, while the North Central spent big on Shreyas Iyer. The two Southern franchises were also part of the spending spree, with the South buying Abhishek Nayar and the South Central buying Siddhesh Lad.
All these players will attract huge interest and support from those who decide to support these franchises, and their performances will determine how well their team is going to do, and if they can win the title.
It is great to see new T20 leagues coming onto the scene, and in their first season's they must attract good players to show that they are capable of surviving. By bringing Sachin Tendulkar on board, the Mumbai T20 league has tried to ensure a great first season, because they know that players will want to be associated with a league that has Tendulkar in charge.
With big names joining in the fun, more than likely to ensure they are fit for the IPL that begins in April, we are certainly going to see some great games in this event. The first season will decide where the future of this tournament lies, but there is the potential that that could turn into an IPL warm up event, and that will mean attracting a lot of good players. The timing is perfect for that, and assuming that the first season goes well, we could see more players playing here to get ready for the IPL which takes place just weeks later.
| Teams | Owner | Icon Player | Mentor | Coach |
| --- | --- | --- | --- | --- |
| Mumbai North | Sandipkumar Gupta / Ajdipkumar Gupta / Sanraj Hotels & Resorts Private Limited | Ajinkya Rahane | Sandeep Patil | Balwinder Singh Sandhu |
| Mumbai North-West | Radius Developers – Sanjay Chhabria | Rohit Sharma | Amol Muzumdar | Omkar Salvi |
| Mumbai North-East | Transcon Developers | Suryakumar Yadav | Lalchand Rajput | Atul Ranade |
| Mumbai North-Central | PK Hospitality + Sangam + Rudrakh | Shreyas Iyer | Sameer Dighe | Vinod Raghavan |
| Mumbai South-Central | Jupiter City | Siddesh Lad | Vinod Kambli | Vinayak Samant |
| Mumbai South | Star Connect | Abhishek Nayar | | Amit Dani |
Mumbai T20 League Team Squads
Mumbai North: Ajinkya Rahane, Prithvi Shaw, Vijay Gohil, Shivam Malhotra, Yogesh Takawale, Shrideep Mangela, Sairaj Patil, Rakesh Prabhu, Sagar Jadhav, Yashasvi Jaiswal, Atish Gawand, Jude Singh, Hersh Tank, Akhtar Shaikh, Yogesh Pawar, Salman Ahmed, Pranay Patil, Saeed Shaikh, Sumeet Dhekale
Mumbai North Central: Shreyas Iyer, Agni Chopra, Aishwary Surve, Aman Hakim Khan, Aniket Redkar, Atul Singh, Azhar Ansari, Eknath Kerkar, Karsh Kothari, Kevin Almeida, Meghan Pednekar, Monil Soni, Nikhil Patil, Prashant Bhoir,Pravin Tambe, Sachin Yadav, Sagar Chhabria, Shashikant Kadam, Sidak Singh, Vinit Indulkar
Mumbai North East: Suryakumar Yadav, Aditya Dhumal,Akash Parkar, Atharva Poojari, Atif Attarwala, Dhawal Kulkarni, Kalpesh Sawant, Mohammed Akbar Khan, Parikshit Valsangkar, Praful Waghela, Prateek Dabholkar, Shahid Shaikh, Shashank Singh, Shikhar Thakur,Shivam Nirupam, Sumit Ghadigaonkar, Vaibhav Singh, Vinayak Bhoir, Vishal Mendigeri
Mumbai North West: Rohit Sharma, Aamir Bhorania, Akhil Herwadkar, Anup Revandkar, Arun Yadav, Chinmay Sutar, Doraiswamy Subramanian, Harshal Soni, Iqbal Abdulla, Parag Khanapurkar, Pardeep Sahu, Prathamesh Dake, Sachin Shinde, Shashank Attarde, Shubham Ranjane, Siddharth Chitnis, Tanmay Mishra, Tushar Deshpande, Vaibhav Mali, Vineet Sinha
Mumbai South: Abhishek Nayar, Aakarshit Gomel, Adeeb Usmani, Ankur Singh, Atif Shaikh, Badre Alam, Bhavin Thakkar, Deepak Shetty, Dhrumil Matkar, Gaurav Jathar, Harmeet Singh, Japjeet Randhawa, Jay Bista, Karan Shah, Khizer Dafedar, Prasad Pawar, Prashant Naik, Rohan Raje, Sujit Nayak, Suved Parkar
Mumbai South Central: Siddhesh Lad, Ajinkya Beloshe, Akhil Rajput, Alpesh Ramjani, Bhargav Mehta, Bravish Shetty, Hardik Tamore, Paul Valthaty, Pratik Prabhu, Raunaq Sharma, Royston Dias, Sagar Trivedi, Shams Mulani, Shivam Dubey, Siddharth Akre, Siddharth Raut, Sufiyan Shaikh, Swapnil Salvi, Tanush Kotian, Vishal Dabholkar
T20 Mumbai League 2018 Schedule
| | | |
| --- | --- | --- |
| Sr No | Date & Time | Fixtures |
| 1. | 11 Mar at 15:30 | North Mumbai Panthers vs. ARCS Andheri |
| 2. | 11 Mar at 19:30 | SoBo SuperSonics vs. Mumbai North East Triumph Knights |
| 3. | 12 Mar at 15:30 | Shivaji Park Lions vs. NaMo Bandra Blasters |
| 4. | 12 Mar at 19:30 | SoBo SuperSonics vs. North Mumbai Panthers |
| 5. | 13 Mar at 15:30 | Shivaji Park Lions vs. Mumbai North East Triumph Knights |
| 6. | 13 Mar at 19:30 | ARCS Andheri vs. NaMo Bandra Blasters |
| 7. | 14 Mar at 19:30 | Mumbai North East Triumph Knights vs. ARCS Andheri |
| 8. | 15 Mar at 15:30 | NaMo Bandra Blasters vs. SoBo SuperSonics |
| 9. | 15 Mar at 19:30 | North Mumbai Panthers vs. Shivaji Park Lions |
| 10. | 16 Mar at 15:30 | Mumbai North East Triumph Knights vs. NaMo Bandra Blasters |
| 11. | 16 Mar at 19:30 | Shivaji Park Lions vs. ARCS Andheri |
| 12. | 17 Mar at 15:30 | North Mumbai Panthers vs. Mumbai North East Triumph Knights |
| 13. | 17 Mar at 19:30 | ARCS Andheri vs. SoBo SuperSonics |
| 14. | 18 Mar at 15:30 | NaMo Bandra Blasters vs. North Mumbai Panthers |
| 15. | 18 Mar at 19:30 | SoBo SuperSonics vs. Shivaji Park Lions |
| 16. | 19 Mar at 15:30 | Qualifier 1 |
| 17. | 19 Mar at 19:30 | Eliminator |
| 18. | 20 Mar at 19:30 | Qualifier 2 |
| 19. | 21 Mar at 19:30 | Final |