Buy IPL Mumbai Indian Jersey 2019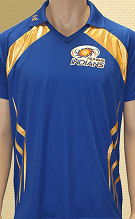 IPL Mumbai Indians 2019 jersey links are placed here. The team from Maharashtra are one of the successful teams of the Indian Premier League having lifted the trophy a record three times. Buy Mumbai Indians tickets 2019 here.
How to buy Mumbai Indians jersey online? Although Mumbai Indians merchandise is also available on popular websites like Amazon.in and Flipkart, the official website of the franchise offers its merchandise directly from its portal for fans. So The Souled Store acts as a one-stop shop for all merchandise related items for the franchise. You may also purchase merchandise on Inventa. Cheaper replicas can also be purchased on Flipkart.
Overseas fans of the franchise do not have to be disappointed as they can order their favourite merchandise, including replica jerseys off fandomcricket.com/MI.
The home ground of this franchise is the renowned Wankhede Stadium in Mumbai. Fans have always been a big strength of this team as they come out in droves to support them. They have a top-notch home record and the fans are expected to throng the stadium once again in droves.
The stadium is filled with replica jerseys and a sea of other Mumbai Indians merchandise on match days as the fans spare no expense to show their support for the team.
Mumbai Indians has a host of popular merchandise like wristbands and pillow cases but nothing is more popular than the replica team t-shirts especially the ones of India's most famous cricketer – Sachin Tendulkar.
The jersey for the Mumbai Indians for the 2019 edition of the IPL has also been unveiled and it is very similar to its predecessor. The blue and gold combination remain with three gold stripes down the side which is a typical Adidas feature who remain the official manufacturer of the Mumbai Indians' clothing line.
The replica jersey for men is priced at approximated Rs. 2299 for all sizes. For overseas fans, they are priced at close to $21.99. Although the pricing is on the higher side, the fan base of this famous franchise has always made sure there is a sea of blue and gold in the stadium on match days. Buy Adidas Mumbai Indians blue jersey using the above links.