Kings XI Punjab Official Fan Jersey Buy Online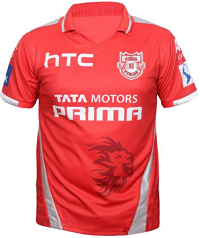 Buy Kings XI Punjab jersey 2019 links using the links here. The horror showing in the 2016 edition of the Indian Premier League notwithstanding – where the franchise from the north finished rock bottom as it collected just four wins in 14 matches – Kings XI Punjab are always a team to look out for. Buy Kings XI Punjab tickets 2019 here.
How to buy Kings XI Punjab jersey online? To satiate the frenzy of the fans who go to great lengths to support their team, KXIP has tied up with various e-commerce partners to try to get its merchandise to fans from anywhere in the country. The official online partners who offer to buy Kings 11 Punjab merchandise are T10Sports, amazon.in and Flipkart. The jerseys can also be purchased globally from thesouledstore.com.
Although the franchise offers a host of merchandise including a t-shirt, Lassi Da Gilaas and customized badges, the most popular is the replica team jersey which always sells the fastest.
Punjab has unveiled its new jersey for the upcoming edition of the IPL and it is very similar to the one it wore in the previous edition. They are bright red hue with a silver stretch along the sides. It is an eye-catching and attractive design which is one of the better ones in the IPL.
The replica match jersey for men costs about Rs. 2350 which is a bit more expensive than those priced by other franchises. Punjab also provides a stadium jersey for its fans which is more reasonably priced at Rs. 1499. Irrespective of the cost, KXIP jerseys are among the most sold items from the team's merchandise and it promises to follow a similar trend again
The KXIP roster has been strengthened during the player auction as it looks to turn around its fortunes.
The fans of this franchise from the state of Punjab are perhaps the most passionate. The energy of the crowd which throngs the Punjab Cricket Stadium in Mohali, which serves as the home ground for the Kings XI team, is almost unrivalled. The colours in the stadium and the deafening noise are all a sight to behold for any cricket lover in this country. Kings XI Punjab 2019 IPL jerseys and t-shirts now available using the above links.