IPL 2018 RCB Team Players List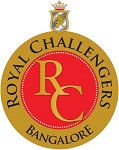 Royal Challengers Bangalore team 2018
Bangalore IPL team 2018 players list is placed here. The Royal Challengers Bangalore are one of the original IPL franchises but despite that they have never won the title. They have come close on numerous occasions, reaching three finals but losing in every one of those. With Indian superstar Virat Kohli captaining the side they have one of the best cricket players in the world, if not the best, and because of that you always have to respect their challenge. RCB will be looking to finish the unfinished business this year. RCB players 2017 list is placed below.
Royal Challengers Bangalore home games 2018 tickets are available here
We now have the player retention list available and the Challengers have decided to retain three players from last season. Those three players are three batsmen, Virat Kohli, AB de Villiers and youngster Sarfaraz Khan.
Kohli needs no introduction to fans, he has been a great servant to Indian cricket and during his time with the Challengers he has had a lot of success. He knows the game inside out, and is a huge player for the entire nation, everyone respects what Kohli can do with his bat and he is a player that we all get excited about.
AB de Villiers is another world class player, who fans will be very familiar with. Despite being 33 he still has plenty of offer and as well as being a top class batsman he can also be their wicketkeeper if they choose. Alongside the two stars is 20 year old Sarfaraz Khan, a youngster who is improving with every season in the IPL. He has the ability to do things a little differently, and can play some thrilling shots to wow the fans in attendance.
With these three players retained, a big part of the batting line-up is already in place and bowling will be the main target at the player auction. The line-up already looks explosive, and if they can combine some good bowling with that then you would have to think the Challengers can compete for the 2018 IPL title.
The player auction is not too far away and it will be interesting to see what strategy is employed by the Challengers. Their batting line-up already looks impressive, but they must add some good bowling to be able to complete for the title.
With Kohli in the line-up, anything is possible from the Challengers and their fans will be hoping to see at least one star bowler arrive through the auction to give them a chance of competing for the title this season. If they can do that, they shouldn't be too far away. RCB is capable of ripping apart any bowling attack and torturing any batting unit. Fingers crossed to see this happening in this year's IPL. Bangalore RCB ipl team 2018 players list is placed below.
RCB Squad 2018
Franchises
League Fee
Deduction
Salary Cap Remaining
RTM available at Auction
Virat Kohli
17 Crs
17 Crs
49 Crs
2
AB de Villiers
11 Crs
11 Crs
Sarfaraz Khan
1.75 Crs
3 Crs
Full list of Royal Challengers Bangalore players for IPL 2018 will be placed here live during the IPL auction.