Mumbai Indian Squad 2018

>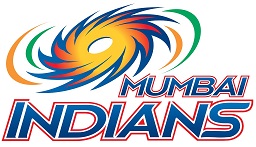 IPL Mumbai Indians Roster 2018
IPL 2018 Mumbai players list is placed here. The Mumbai Indians won their third IPL title last season, beating the Rising Pune Supergiants in a thrilling final. They broke two records last season, they became the first team to win three IPL titles since the league began, and they also became the first team to win 100 T20 matches. The pressure will be on them again to succeed, but they have a great squad and management team, and a fourth title could be in their reach.
Mumbai Indians home games 2018 tickets are available here.
The player retention list has now been revealed for all the IPL clubs and the Mumbai Indians have decided to retain three players from last season. The three players on their list are Rohit Sharma, Hardik Pandya and Jasprit Bumrah.
Rohit Sharma has done a fantastic job of captaining the Indians over the past few seasons and he has had a lot of success with them. He is a huge player for them and vital to their chances of success, he contributes in many ways and is a great captain.
Hardik Pandya can contribute with both the bat and ball and at just 24 years old he is a player who is going to score many runs and take many wickets should he stay with this team. Another 24 year old set to shine this coming season is bowler Jasprit Bumrah, he has already shown himself to be a very good T20 bowler and it would not be a surprise to see him contribute even more in 2018.
With a top batsman and captain, a very good bowler and an all-rounder in the team, head coach Mahela Jayawardene has a great platform to build on. He will add even more quality to those players and the Indians look like putting together another strong challenge for the IPL trophy.
The combination of Sharma as captain and Jayawardene as coach worked very well last year for the Indians and they will get the chance to show it was no fluke in the upcoming 2018 season.
Both know how to attack the T20 format of the game, and both have great cricketing knowledge, they are a force to be reckoned with and while they are together with the Indians, they have to be considered one of the tournament favourites.
We don't have long to wait until the IPL auction where we will see Mahela Jayawardene finalise his plans for the Mumbai Indians and the upcoming 2018 IPL season. On paper they have the best talent, potential and proven match winners across all departments. IPL MI team 2018 players list is placed below.
IPL Mumbai Indian Team 2018
Players
League Fee
Deduction
Salary Cap Remaining
RTM available at Auction
Rohit Sharma
15 Crs
15 Crs
47 Crs
2
Hardik Pandya
11 Crs
11 Crs
Jasprit Bumrah
7 Crs
7 Crs
Full list of Mumbai Indians 2018 team will be updated here live during the IPL auction.