Sunrisers Hyderabad IPL Team 2018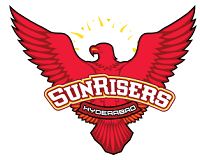 IPL 2018 Sunrisers Hyderabad team squad
Hyderabad IPL team 2018 is placed here. The Sunrisers Hyderabad are relatively new to the IPL but already they have made their mark. In 2016 they won their first title, just four seasons after they began as a franchise. Last season they were unable to follow up and win back to back titles, but they still managed to reach the playoffs. They know what it takes to win in the IPL and will be looking for their second victory now they have tasted success. IPL Hyderabad team 2018 is placed below.
Sunrisers Hyderabad home games 2018 tickets are available here
The retained lists are now available for the upcoming 2018 so we are able to see who will be retained by the Sunrisers for their upcoming campaign. They have decided to retain two players, David Warner and Bhuvneshwar Kumar, which gives them a great platform to build upon.
Both Warner and Kumar need little introduction, both have vast cricket experience in all forms of the game and they are going to provide the Sunrisers with a great platform to build upon once again. David Warner will open the batting and if he gets going then the opposition need to watch out. He can hit the ball a long way and we have seen some memorable hits from him in the past. With him at the top of the order the Sunrisers have both quality and experience, and that should allow them to get off to a good start in the majority of their matches.
Kumar is a great bowler who has many different variations to fool the batsmen with. He is a genuine number one strike bowler and will take a lot of wickets when the competition gets underway. Kumar has vast experience in the IPL and he knows how the pitches perform in India, he should have a great tournament in 2018. With a number one batsmen and a number one bowler the Sunrisers have a lot of bases covered already, they just now need to add depth to their squad at the auction.
The IPL auction is not too far away and with both Warner and Kumar signed up already, the Sunrisers are in a great position going into it. They don't need to spend huge amounts of money on signing star players, because they already have theirs. Instead they can add depth and look for value in what is sure to be a competitive market, they are starting off with two great players though, and could have a very good season when the play begins. One thing is for certain – they will give everyone else a run for their money. IPL SRH squad 2018 is placed below.
Sunrisers Hyderabad Roster 2018
Players
League Fee
Deduction
Salary Cap Remaining
RTM available at Auction
David Warner
12 Crs
12.5 Crs
59 Crs
3
Bhuvneshwar Kumar
8.5 Crs
8.5 Crs
Full list of Sunrisers Hyderabad players for IPL 2018 will be placed here live during the IPL auction.