IPL 2016 Winners – Sunrisers Hyderabad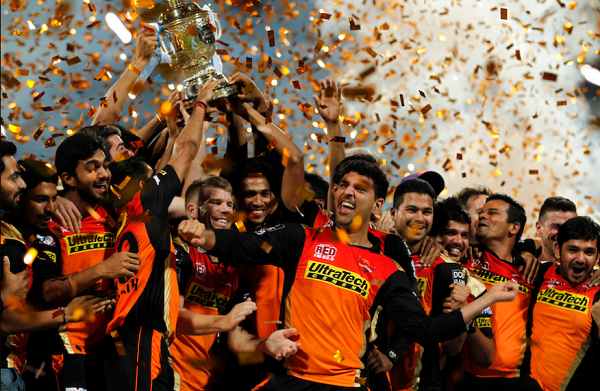 IPL 2016 Winners – SRH  beat RCB by 8 runs
The 2016 edition of the Indian Premier League turned out to be a thrilling affair and has certainly lived up to the expectations of the fans. With Sunrisers Hyderabad winning the title for the first time ever, let us take a look at their road to glory which has led them to this remarkable feat.
Sunrisers Hyderabad have lifted the 2016 Indian Premier League trophy after having a pretty impressive campaign in the competition. Let us take a look at some of the reasons which got them to the historic feat.
Apart from Virat Kohli for Royal Challengers Bangalore, it was David Warner as well who proved to be one of the most successful captains in the tournament. In addition to being an explosive batsman, his constant motivation to his men on the field has certainly played a huge part in their success. He has also played a few match winning innings, especially in their qualifier against Gujarat Lions. Having scored 93 in 58 deliveries, they moved on to win the game by four wickets.
In addition to him, Yuvraj Singh and Ben Cutting also did a terrific job in taking the pressure off from the opening players. While there was a brief spell when Yuvraj was injured, it didn't shake the team. Upon his return, he continued to play superbly and his excellent strike rate helped his side maintain the rhythm.
As for the final segment, Sunrisers Hyderabad have a bowling attack which was highly disciplined and least economical one in the tournament. Mustafizur Rahman and Bhuvneshwar Kumar have certainly troubled the batsmen a lot, as their constant wicket taking sprees held the team right in the competition. Ashish Nehra too had a brief cameo with the side before succumbing to the injury. It certainly isn't a huge surprise to see Kumar be the Purple Cap bearer and also get selected for the Indian's tour of West Indies this month.
Surprisingly, they lost the chance to be the league leaders when they lost their final two league matches. However, they didn't lose their momentum and form, as they delivered in the big games. The final against Royal Challengers Bangalore was no different as despite being the away side, they managed to outclass the hosts and won the tournament.
Needless to say, their persistence and hard work finally paid off, when they were crowned the 2016 IPL champions.
Past IPL Winners List
IPL Winners 2015

: 

Mumbai Indians

IPL Winners 2014

: 

Kolkata Knight Riders

IPL Winners 2013

: 

Mumbai Indians

IPL Winners 2012

: 

Kolkata Knight Riders

IPL Winners 2011

: 

Chennai Super Kings

IPL Winners 2010

: 

Chennai Super Kings

IPL Winners 2009

: 

Deccan Chargers

IPL Winners 2008

: 

Rajasthan Royals