CSK, RR to return in 2018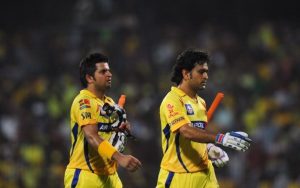 The suspension of Chennai Super Kings and Rajasthan Royals from the Indian Premier League came as a shock to many a couple of years ago. In July 2015, the Lodha Committee suspended the owners of the above two franchises for two years, under the charges of spot betting and match fixing in the IPL 2013.
The ban is to be served by the two teams for 2016 and 2017 seasons. With one year already one, they have to wait one more year before they can be back in the league. Both the sides have been quite prominent in the league. Chennai Super Kings have won the title twice, while emerging as the runner-up on other four occasions. This means there have been only two instances, where they failed to reach the finals.
As for the Rajasthan Royals, they were the first champions of the IPL, but over the years, their charisma dropped down significantly.
When the ban was announced on the two teams, many were worried over the future of the IPL. After all, two of the most entertaining sides were suspended. But the management was quick to make amends for this, by introducing two new franchises. Interestingly, these franchises were comprised of the players from the two suspended teams.
When the state of Gujarat and the city of Pune were chosen to be the two new entrants, the fans in those regions were exultant. Moreover, the two new teams were quite impressive and entertaining (though it is fair to say that Lions entertained more than the Supergiants). The fact that Gujarat Lions almost made it to the final in their very first season speaks scores about the potential of their team.
With just one more season to go before the fate of the two franchises is decided, both of them will be looking to make this year a grand one. On the other hand, loyal supporters of CSK and RR will be longing for their return to the league.
The future of Chennai Super Kings and Rajasthan Royals is still unknown. Also, what happens to Pune and Gujarat once CSK and RR are back in the IPL? IPL 2018 likely to have 10 teams. We're sure to get a clearer picture on this in the next few months.