Sachin A Billion Dreams Movie Tickets Online Booking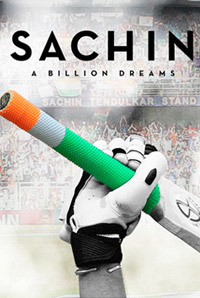 Sachin Tendulkar is undoubtedly a name with which, every Indian is familiar. It is a name that is synonymous to cricket, to greatness and to legend. Regardless of their fondness for the sport, every person in India must have heard the two words at some point of time in his life. The words, which one can never forget. Book movie tickets online for Sachin: A Billion Dreams on Bookmyshow / Ticketnew (switch to your location).
Movie Cast and Crew: Sachin Tendulkar, Arjun Tendulkar, Mayuresh Pem as Nitin Tendulkar
In his vivid career of 24 years, the iconic batsman took India to the 2011 World Cup, along with setting a plethora of records that stand to be broken. From the famed 200 not out innings to being the highest run scorer in the ODI format, Sachin Tendulkar has left a legacy which will be remembered fondly for years to come.
To throw a proper light on this glittering and sensational career, capturing the essence into a movie is certainly the path to choose. With this in mind, 200 NotOut Productions, along with Carnival Motion Pictures, made the biopic 'Sachin: A Billion Dreams.' The movie is aptly named so, given that a billion hopes rested on his shoulders, every time he came on the pitch to bat. Directed by the famed director James Erskine, the movie follows Sachin himself, on his journey to become the most accomplished batsman of all time.
The movie shows how a curly haired boy, who would pick fights in the school, went on to become the soul of India. Tendulkar allowed the crew to shoot his matches, as well as private moments for the film. It is also reported that certain things which fans never knew about Sachin, will also be shown in the movie. The music has been given by A.R Rehman, which is another reason to watch it. 'Sachin: A Billion Dreams' will also feature cameos from other personalities such as MS Dhoni, Milkha Singh and MC Mary Kom.
The movie is set to hit the theaters on May 26th, and the tickets for it will be made available a few days before that. But having just seen the teaser, one thing is certain – this movie is going to be a super hit one.
Sachin A Billion Dreams Trailer