IPL Rajasthan Royals 2018 Team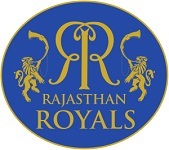 Rajasthan ipl team 2018
Rajasthan Royals team for ipl 2018 is placed here. After a two year ban, the time has come for the Rajasthan Royals to return to the IPL in 2018. They will come back looking to add success to their victory in the very first IPL event, but it will be tough for them, as it always has been. They have one of the smallest budgets in the IPL and that makes things very tough for them, but they also thrive on being the underdog. They will go into the 2018 edition of the tournament looking to upset the big boys on their return, and show they are able to compete in every game.
The full list of players that can be retained by the Rajasthan Royals is below.

Ajinkya Rahane, Steven Smith, Ankit Sharma, Rajat Bhatia, James Faulkner and Dhawal Kulkarni
Despite winning the very first edition of the IPL, the Rajasthan Royals have always been seen as one of the smaller teams in the tournament, and are often a long shot to reach the finals. They try their best to assemble a squad using smaller names from overseas and local talent that will compete in the IPL as the underdogs, but will always fight for victory extremely hard. That has given them a great fan base and one that loves the players of this team, they always have a strong connection.
The big challenge for Rajasthan this coming season is that they have already said they don't want to retain any of their star players from before their ban. This is a big move for them, and means they are turning their back on anyone involved with them during their time before the ban, a very bold thing to do. This will mean that they have to sign every single player they want before the 2018 season starts, and these players need to gel together, because they won't have played together before.
It is going to be very interesting to see how this works out for the Royals, it is a huge gamble to take and it may not pay off for them. Their start to the 2018 IPL season is likely to be a poor one, because of the work that will be needed to get the players working together, and that could spell trouble for them. They will again have one of the smallest budgets in the league and if they start poorly, the 2018 season could turn out to be a very long one for them.
The Rajasthan Royals are back and their team is going to look a lot different from the last time we saw them in the IPL. They are set to bring in a team full of new faces for their first season back and that is going to bring a lot of intrigue to them. Many people will be looking at them to see what they can achieve with their small budget, but so far it looks like they could struggle, because their players will take time to work together. We don't have long to wait until the IPL is back and we finally get to see the Rajasthan Royals back on the field. Rajasthan Royals players list 2018 will be placed below.

Rajasthan Royals Squad for IPL 11 2018
To be updated post IPL Auction;