IPL 2017 Contests
The 10th edition of IPL is slated to begin from 5th April 2017. As the schedule of the tournament approach closer, various IPL franchises launch contests to give fans a chance to win tickets /  official merchandise / accompany the team crew. Please see this year's IPL contests launched so far;
Perfect VIVO IPL Contest- #PerfectSelfiePerfectVIVOIPL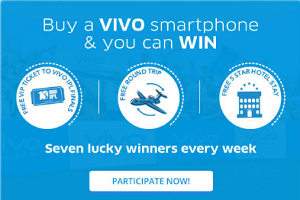 Free VIP Ticket to VIVO IPL Finals
How to Participate in the #PerfectVIVOIPL contest
1. Buy any Vivo Smart Phone on Flipkart or a store near you.
2. Visit PerfectVIVOIPL and fill the form – all required entries must be filled including your selfie.
3. Lucky entries stand a chance to win an all expenses paid (including flight + accommodation) VIP ticket to watch the finals in Hyderabad.
4. Winners will be notified via SMS and email.
KKR Contest – #10YearsOfKKR 
(Contest Ended)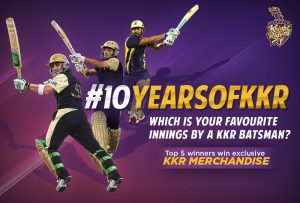 Tell us your Top 10 innings by the KKR batsmen till date.
How to Participate in the #10YearsOfKKR contest
1. Participants must mention which is their favourite innings by a KKR batsman?
2. Use the #10YearsOfKKR.
3. Follow https://twitter.com/KKRiders on Twitter.
4. Participants must be residents of India.
5. Top 5 winners win exclusive KKR merchandise
DD Contest – #ColoursofDD
(Contest Ended)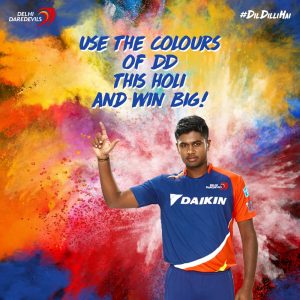 Paint the town Red and Blue
How to Participate in the #ColoursofDD contest
1. The contest opens on March 11th at 12.00 pm IST and ends on March 13, 2017 at 11.59 pm IST.
2. Participants must share their picture showing their love for DD on all the official Delhi Daredevils' social platforms by using the colours Red and Blue. For example, girls could paint their nails /  paint their face Red and Blue etc.
3. Participants must use the hashtag #ColoursofDD.
4. Top 5 winners will be announced within 7 days to win one DD branded merchandise.
5. Contest open to Delhi residents only. Find out more about this contest here.
RCB Contest – Bold Hunt 
(Contest Ended)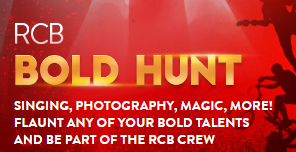 Royal Challengers Bangalore Bold Army hunt
How to Participate in the Bold Army Hunt contest
1. Register and create your profile on RCB Bold Army.
2. Take a Photo / Record a Video/ Audio or even a blog post that showcases your talent with an RCB flavour to it.
3. Upload your Talent on Facebook/YouTube/Instagram/Twitter/Soundcloud with #PlayBold.
4. Paste the Link on your RCB Bold Hunt Profile
5. Once approved by RCB moderators, you will receive an email approval email and your profile is complete.
6. Get your friends to come and Like your Profile as the chances of you winning depends on the number of followers you manage to gain for your profile. Find out more about this contest here.