Gujarat Lions GL Tickets 2017 Online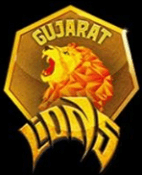 Book IPL GL tickets online on Bookmyshow
IPL 10 Gujarat Lions tickets booking details will be placed here. The Rajkot based team makes its second appearance in IPL 10 alongside Rising Pune Supergiants – who have replaced Chennai Super Kings and Rajasthan Royals following their suspension from IPL for two seasons for match fixing by their owners. Buy ipl Gujarat Lions tickets online on Bookmyshow. You can also buy tickets in Rajkot, Ahmedabad, Jamnagar and other select cities very soon and in the following retail outlets.
IPL 10 Green Park Stadium tickets Price: 500, 750, 800, 1000, 1500, 2500, 3000, 4500, 5000 (All in Indian Rupees).
Call it a beginner's luck or just sheer talent, the Lions dominated the last season in the group stage completely, before failing to overcome the hurdles in the playoffs. In the 14 games they played, they were the victors in nine of them, which led them to a first place finish in the league.
This being the first time that the fans in Gujarat got a team to cheer for, the fans flocked to the stadium just like any passionate supporters. The home venue for the Lions is Saurashtra Cricket Association Stadium in Rajkot. The ticket price starts at 500 and can go anywhere up to 5,000, all in Indian Rupees. They also play a few matches at the Green Park Stadium in Kanpur.
The players who made the franchise a huge success are many. In their batting line-up, they will be led by dashing Indian middle order batsman Suresh Raina. Aaron Finch did a terrific job last season in troubling the opposing bowlers, and the presence of Brendon McCullum didn't make it any easier. Dwayne Smith, Ravindra Jadeja, James Faulkner and Dwayne Bravo were also a part of the team, who managed the middle order. In fact, the above players have single-handedly led their side to many wins.
In the bowling department, Dhawal Kulkarni and Praveen Kumar were the highlights, and we can certainly expect them to continue playing in the same vein next year too.
In the playoffs, Gujarat Lions had two chances to reach the final, but they lost on both the occasions, one to Royal Challengers Bangalore and the other against Sunrisers Hyderabad. Nonetheless, we can certainly expect them to bounce back and avenge their losses next year.
Tickets for the home games of the Rajkot team will be made available on both online platform and offline retail outlets. Available tickets will also be sold at the stadium counters on match days where fans can grab a seat if they are unable to book their tickets beforehand.